---
2023 Class of Forefront Fellows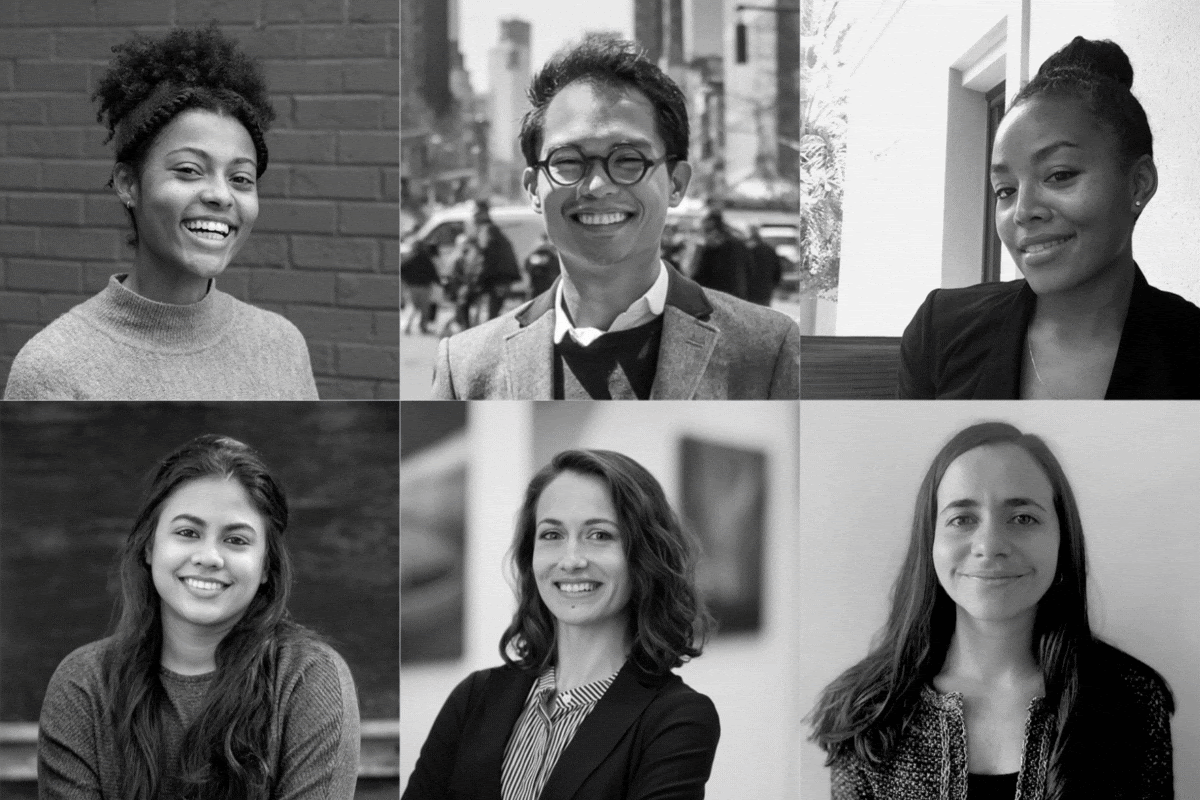 What would public space in New York City look like, feel like, and sound like if we centered the desires of young people in the built environment? And how does a youth justice lens help us reclaim the right to the cities we call home? I'm excited to join the Forefront Fellowship with Urban Design Forum to explore all this and more.

Each year, the Forefront Fellowship selects a diverse cohort of leaders to investigate how design can address a social or political challenge facing New York City. This year's interdisciplinary cohort will explore urban environments that foster health, well-being, and growth for young people.

Made up of community planners, artists, engineers, organizers, designers and architects, Urban Design Forum's eighth Forefront class draws talent from an array of over 30 early-to-mid career professionals, each engaged in work shaping New York City's future.

You can learn more about this year's Fellowship here and read about the Fellows here.

---
Past
Co-facilitating Local Government 101, an online course for artists and community advocates with Engaging Local Government Leaders in February 2022 alongside Lynn Osgood of Civic Arts and Lilith Winkler-Schor.

The 5-week course will propose the question: How can we partner with artists and culture-bearers to increase the power of municipal engagement processes? Sessions participants will learn how to partner with local government staff to create arts-based, community development projects.
---
---
Developing a Stories of Place residency in Martin County, KY with Karen Rignall (University of Kentucky)

Stories of Place is a program of the Livelihoods Knowledge Exchange Network (LiKEN). The project engages multiple generations in the discovery and renewal of places that matter most to Central Appalachian communities. A residency with Martin County High School in March 2022 will engage youth in the discovery process associated with storytelling and the principles and ethics of participatory action research.

Thinking of Stories of Place as applied narrative ecology, the project approaches "place" as an ecosystem that depends on the stories we tell for its ongoing renewal. What are the environmental and social conditions that sustain storytelling in our communities? And how does storytelling nurture environment and society together?

---
Recipient of a 2021-22 SciArt Grant through the VT Center for Communicating Science with collaborators Emmanuel Frimpong (Fish and Wildlife Conservation, Virginia Tech), Eugene Maurakis (Biology, University of Richmond), and Hiromi Okumura (School of Visual Arts, Virginia Tech).

The vision is to enhance the public's appreciation and awareness of Deerfield Trail, freshwater ecosystems, and the remarkable life of freshwater nest building fishes. Specifically, we seek to highlight the unique story of the Bluehead chub. Through arts-based experiences, the team is broadening understanding of the unique opportunities and challenges that lie ahead in protecting our freshwater ecosystems. Storytelling and story sharing on the bluehead chub, a recognizable and vital -- though too often overlooked -- fish will inspire recognition, appreciation, and ultimately stewardship of and advocacy for our freshwater ecosystems.
---
Recipient of an extended 2020-22 Major SEAD Grant through the VT Institute for Creativity, Arts, and Technology (ICAT) with collaborators Todd Schenk (SPIA, Virginia Tech), Bob Leonard (SoPA, Virginia Tech), Taylor Wood (SoPA, Virginia Tech) and Diksha Pilani (MFA in Theatre and M.Arch Candidate, Virginia Tech).

The Creativity, Arts & Technology to Build Civility project was initiated in the summer of 2020 with the goal of integrating the arts, technology, and best practices in building empathy and understanding from the social sciences to promote civil discourse. The project objectives are to: Develop a new suite of tools that foster civil discourse, utilizing new technologies and approaches derived from the performing arts; test these new approaches with community members both from campus and beyond; assess the efficacy of these new approaches; and more broadly disseminate tools and approaches found to be useful.

To date, the team has staged a virtual production, called The Race 2020, that reached over 800 viewers and participants; run five workshops on civil discourse with over 300 participants; and developed an online version of our 'Civility 101' training (www.civility.vt.edu). This year, the team is continuing to develop its interactive website; developing more advanced workshops (e.g., on anti-oppression); and developing a concept for an event in The Cube that would utilize some of its technical possibilities to facilitate a truly interactive, multidimensional conversation on civility. Watch an "ICAT Playdate" with team members here.


Streaming The Race 2020 from the Moss Arts Center. Photo courtesy of David Franusich.




---
November 2021 - January 2022

Co-facilitating weekly Creative Caregivers workshops for healthcare professionals in partnership with the Oncology Nursing Foundation and hospitals across the United States.

Workshops guide healthcare professionals through artistic experiences and deep reflection designed to build emotional resilience and prevent burnout. View documentation of a daylong workshop with nurses through the Kentucky Nurses Association and Actors Theatre of Louisville here.
---
November 2021

Collaborating Artist for The Clinic Performance's partnership with Actors Theatre of Louisville.

Collective Care: Finding Freedom and Joy Through Movement invites members of the Kentucky Nurses Association to join a two day arts-based workshop, culminating in a short documentary by Superbloom and panel discussion on Thursday, November 4 at 7pm EST.

The Clinic Performance combines art, music, movement, and caring science to create immersive experiences and resiliency workshops for healthcare professionals.
---
Panelist with Ping Chong + Company at Groundwork: Healing within Community Arts Education, a virtual gathering for community arts practitioners to embody radical reinvention and imagination as we process the pandemic.

The panel, titled "Pathways to Creative Aging: Building Community Alliances through Artmaking", is part of the conference's Creative Aging Track and offered live on Tuesday, October 26 at 2:30pm ET. Recording TBA.


Description: Creative aging programs — when rooted in authentic collaboration — can be paths for older adults to feel fully seen and heard as vital contributors to our communities. In this Real Talk Session, representatives of creative aging programs at Flamenco Vivo Carlota Santana and Ping Chong + Company talk openly about how they are using dance and storytelling to deepen connections among local elders. Join us to discuss how these kinds of transparent and human-centered approaches to creative aging can build alliances among your older adult students, your staff and teaching artists, and your community partners and spark broader advocacy.

Presenters: Leslie Roybal (Program Director, Flamenco Vivo Carlota Santana), Elisabet Torras Aguilera (Teaching Artist, Flamenco Vivo Carlota Santana), Carly McCollow (Teaching Artist, Ping Chong + Company), Courtney Surmanek (Teaching Artist, Ping Chong + Company), Cory Michael Herman (Director, Alliance Stage Company), Sarie Teichman (Older Adult Student, Ping Chong + Company)


---
September 2021

Workshop Co-Facilitator with Steven T. Licardi at Play Perform Learn Grow's (PPLG) conference Creating Belonging in Times of Pandemic.

PPLG is a conference, an international gathering and a growing community. Founded in 2017 in response to the dehumanizing conditions created by the refugee policy crisis in Europe, PPLG brings together people from around the world who use play and performance to engage social issues, heal trauma, stimulate imagination and possibility, generate community, and build bridges.


The multi-day workshop "The Intimacy & Care of One-On-One Performance" supported attendees in developing online, site-responsive performances that craft new possibilities of belonging. Participants envision and execute a 10-15 minute, site-responsive performance to be shared with select festival attendees. Each performance will be an emotional journey of healing and discovery, holding space for a range of emotions. Performances will be participatory, and one-on-one in a private Zoom room. Performances may be therapeutic, but are not offered as therapy. The goal of this multi-day workshop is to provide a structured environment to design a performance that may be toured beyond the festival.


We agreed with PPLG participants that session recordings will not be shared publicly. Above is a gif from day two of the workshop. We danced in the main breakout room as artists and their guests exited their one-on-one performances. Below is our recipe for a more connected world. We weaved our recipes together using the Zoom chat:

1 full warm bathtub after a long day (with 3 vanilla candles), 4 spoons of the smell of Jasmin at the beginning of spring, 1 cup of poetries of my grandmother, 3 spoons of the TATATATA of my son looking at me smiling. A pinch of Grazie/Thank you (it always tastes better with some of it).

Mix the ingredients at taste, follow what order and cooking time you feel is needed, but I suggest to that slowly, taking the time to be careful, with the ingredients, and how you mix them. And think about the person(s) you are cooking for. It will taste better to them this way.

I fold my bicycle

for a more connected world we need an ocean free from restrictions, a world of boats, children as teachers, holding hands to cross the mountains of fear and a couple of time to sit in togetherness.
Instructions: follow the recipe ingredients from the bottom up. Sit together with the stranger, hold hands to cross the fear, let the children teach you, get in the boats and cross the ocean freely.

I blend my mask

1 cup of the ocean breeze of Shinnecock land—the homeland my ancestors borrowed without asking. 2 tablespoons of gratitude, care, and permission. A pinch of promises kept.
Smell the ocean—know the smell is caught beneath your fingernails. Thank it. Contribute breath, practice permission. Your promise is a first step.

frullare le breakout rooms a pezzi fini
(blend breakout rooms in small pieces)

One pound of acceptance, 50 cc's of warm fuzzies, a mountain of sparkles, basted with warm flames of love

more consciously deep fat frying time

1 Cup of stars, minced finely. 2 tablespoons of the insurmountable space between two lovers' disparate experiences of the same love. A pinch of grief. Reduce the lovers' experiences to a few bland moments. Scatter evenly with stars. Top everything with grief. Serve at room temperature.

Unlimited hugs, a sprinkling of knowing glances, some light house noises and a few spicy irritations.

---
July 2021

Featured Panelist at the National Association of State Arts Association's Creative Aging Institute with Ping Chong + Company.

The Panel discussion shared lessons learned from "Artful Storytelling: Our Meaningful Histories", a theatre project with older adults in New York City's Lower East Side neighborhood. Learn about program planning, delivery, partnership, virtual adjustments, outcomes and impact from the point of view of on-the-ground service providers. Watch the panel discussion here.

---
Recent writing published in September 2020 through the artist-run collective the neighbors can be found here.